Main premičres
World and/or national premičres of works by, eg:
Luciano Berio, Diana Burrell, Aldo Clementi, James Dillon, Franco Donatoni, Ernst Helmuth Flammer, Brian Ferneyhough, Michael Finnissy, Christopher Fox, Joan Guinjoan, Helmuth Lachenmann, Ivo Malec, Tomas Marco, Ennio Morricone, Cecilie Ore, Horatiu Radulescu, Elliott Schwartz, Gerhard Stäbler, Karlheinz Stockhausen, Tadeusz Wielecki.
"Roaring Flame"
Corrado Canonici
(NMC Recordings)

"This album is a supreme labour of love,
it certainly merits" Rick Wakeman
This is the first solo double bass CD ever recorded in the UK entirely dedicated to British composers. The NMC recording includes works by: Oliver Knussen, Diana Burrell, Nicholas Maw, Christopher Fox (featuring Anton Lukoszevieze cello), Roger Redgate, Robert Keeley, James Dillon (featuring Sarah Leonard soprano), Michael Finnissy, Bernard Rands.

Most of the works are recorded for the first time. The CD introduction is kindly written by the legendary rock star Rick Wakeman.
A collection of pieces for solo double bass might not seem a very appealing prospect, but this diverse, all-British showcase of Corrado Canonici's startling virtuosity is thoroughly worthwhile. The disc includes the first recording of Nicholas Maw's The Old King's Lament, and two more striking pieces frame the sequence. There is Oliver Knussen's Turba, composed when he was just 19, which compressed into six minutes an extraordinary range of compositional and performing techniques, while James Dillon's A Roaring Flame recruits a solo soprano (Sarah Leonard here) for haunted settings of Gaelic and Provencal texts about love and marriage, to which the bass provides a fervid accompaniment. (Andrew Clements, The Guardian)

On the Ensemble Expose's Metier album dedicated to the music of Brian Fernehough: "The most engaging of all is the solo double-bass piece 'Trittico per GS' (the initials standing for Gertrude Stein), which under Corrado Canonici's fingers often sounds as though several instruments are involved" (Fabrice Fitch, Gramophone)
Main news

CORRADO CANONICI's NEW LIFE: a message
"Dear friends and colleagues, by now I have been for several years dedicating my energies towards being an agent, manager, music publisher and international exhibitions producer instead of active d.bass playing: with World Concert Artists Ltd, Charlemagne Music Publishing and especially World Touring Exhibitions we are very active in the entertainment & edutainment business. This is a new phase of life I am thoroughly enjoying. Playing is by now more my pleasure than my main task: I am finding true fulfilment in offering my expertise to other artists, and my creativity to other ventures". Corrado Canonici
2009 DARTINGTON INTERNATIONAL SUMMER COURSES
Corrado will teach and play at the Week 5 of the prestigious Dartington Summer Courses, from August 22nd to 29th in Dartington UK.
BASS-FEST 2009
Together with David Heyes, Corrado has taken part to the 2009 Bass-Fest, holding a master-class at Wells Cathedral School UK, April 25th.
THE STRAD twice...
Corrado appeared on the September 2008 issue of The Strad talking about his favourite d.bass microphone, together with other musicians. The Strad's January 2009 issue is now out, featuring a full article by Corrado - in his agent's cap - about how to create a music career.
ALMEIDA THEATRE & INDIAN/WESTERN MUSIC WORKSHOP
After John Cage's performances at the Almeida Theatre (with the Almeida Ensemble) on July 20th and 21st, Corrado is now part of a workshop about Indian and Western music. The workshop takes place from July 24th to August 8th, 2008 at the Goldsmith College, London - featuring both European and Indian musicians, ie the renown Indian singers Rajan and Sajan Misra, and a string quartet from the Orchestra Of The Age Of Enlightenment.
BRIGHTON FRINGE FESTIVAL
On May 15th, 2008 Corrado will perform Tom Johnson's "Failing - a very difficult piece for double bass" at the Brighton Fringe Festival. The piece is a challenging theatrical work, where the performer is due to read a text while playing: the whole piece is about 'failing' the task... It is a real classic d.bass piece!
2007 BRITISH COMPOSERS AWARD
Corrado has been invited for the third time as a juror of the British Composers Award, Orchestral Music category . The prestigious prize is organised by the British Academy, sponsored by the PRS and BBC Radio 3. The final gala ceremony will take place in December.
With The MATRIX ENSEMBLE
Corrado will start his collaboration with The Matrix Ensemble in May 2007, playing Stravinsky's "The Soldier's Tale" and a new work by David Knotts (with words by Ian McMillan). Performances will take place in Norwich on May 19th, and Salisbury on June 5th.
AUSTRIA with The LONDON CONTEMPORARY OPERA
Richard Ayres' opera "The Cricket Recovers" features Corrado playing with the Endymion Ensemble in Bregenz, Austria on March 21st and 24th, 2007. The production is by The London Contemporary Opera.
ITALIAN TV with Keith EMERSON - twice!
Corrado played with the legendary rock pianist Keith Emerson on November 28th, 2006 at the Sanremo's Ariston Theatre. Mr Emerson was the special guest of the prime time national broadcast "50 Canzonissime" on RAI 1, where Keith performed "Honky Tonk Train Blues", and "Maple Leaf Rag" before 7 million viewers!!
And again several million viewers watched the RAI 1 TV show "Concerto Dell'Epifania" on January 6th, 2007 - where Keith played "Honky..." again with Corrado plus a 52-piece orchestra. "Concerto Dell'Epifania" also featured Yusuf Islam (aka Cat Stevens) who exceptionally performed two pieces live.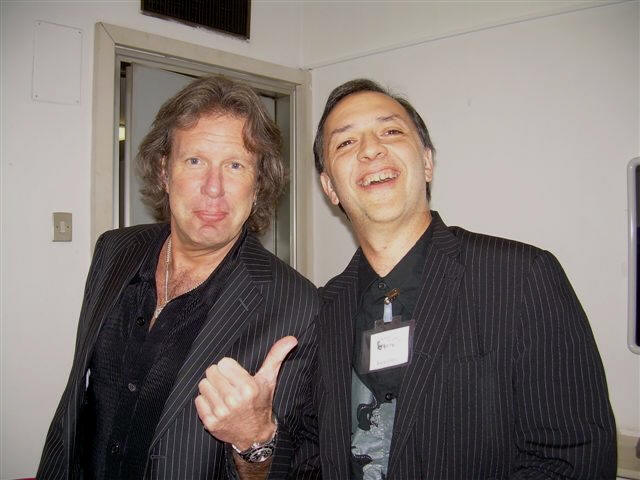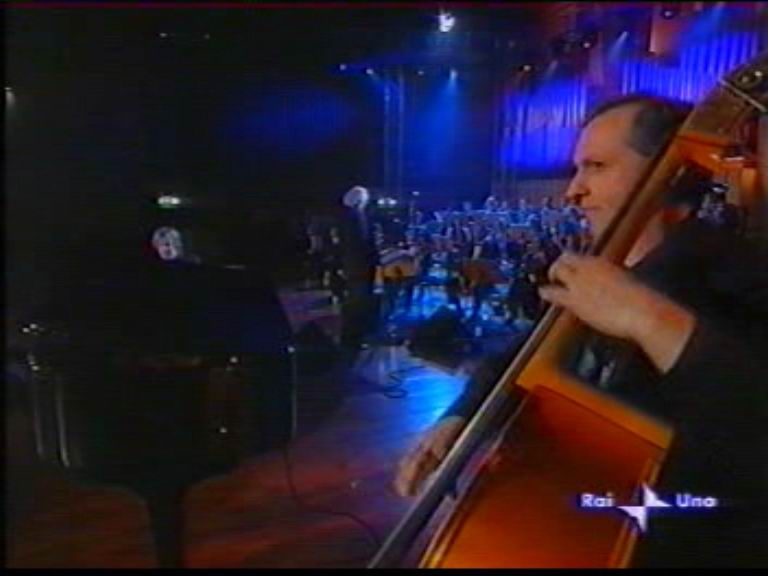 Left: Keith & Corrado after the 6.1.07 TV performance. Right: a shot from the TV...
VERONA, ITALY
Saint Zeno's Abbey in Verona will see Corrado's double-bass performing solo on October 28th, 2006. The programme features works by, amongst others: Xenakis, Macchi, Druckman, Kagel, Scelsi, Malec.
WITH ENDYMION ENSEMBLE
Corrado's collaboration with the Endymion Ensemble continues. After last year's solo performance at the Purcell Room (Vic Hoyland's "Esem" for solo bass and ensemble, and Bernard Rands' "Memo 1" for amplified double-bass), this August sees Corrado playing the BBC Proms. Endymion performed on August 11th, 2006 at the Cadogan Hall - the concert was broadcast on BBC Radio 3.
BBC WORLD SERVICE
In his agent vest, Corrado Canonici was interviewed in September 2005 by the BBC World Service in a radio series for the Chinese audience. The series is about European music, and Corrado talked about recent developments of Italian pop and classical music.

LIVE8!!
In his agent vest, Corrado has been part of the mega-event Live8 on July 8th, 2005: one of the live commentators for BBC Interactive Digital.
During the whole event, Corrado was in touch with major Italian artists - including the superstar Andrea Bocelli - and forwarded their first impressions to the Live8 TV audience.